As you have probably realised, StripGameCentral.com is all about strip games. It's all about the excitement of watching girls playing and losing those games, the anticipation of the gradual stripping and the wonderful nudity of the embarrassed losers. We have very occasionally had male players, but in every game you will see attractive girls playing and losing a growing variety of strip games.
–
Don't Miss the Excellent Benefits of joining our Club:
• Huge collection of updates – a mix of photosets and clips
• Free bonus updates consisting of audition shoots, photostories and more.
• All losers end up naked.
• Wide range of players – slim, skinny, curvy, large breasted, small breasted, blondes, brunettes, redheads, feisty, submissive etc.
• Large range of strip games – and embarrassing forfeits too!
• All exclusive content. (You won't see our photos or clips on competitor's websites.)
• Large, high quality photos – Photosets published after 21/2/09 available in 2048 pixel resolution.
• Clips in members' area can be downloaded and kept. The most recent ones also have a streaming option too.
• All new videos available in at least high-quality (720×576) & low-quality (720×576 at a lower image quality), both in .MP4 format.
(Some of our most recent videos are now supplied in HD and Full HD too).
• E-mail support – we try to solve all account/login problems within 24hrs. We attempt to reply to all e-mails from members.
• Easy navigation and intuitive controls.

– List updates by player name.
– List updates by game type.

• Experience – StripGameCentral has been operating continuously since 2002. We are reliable, experienced and proud of our customer service.
• Last 4 years of photo updates available in zipfile format (at 2048 pixel quality).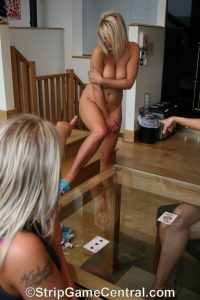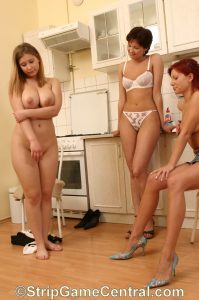 –
JOIN – GAMES – GIRLS – FORFEITS – NUDITY – OUR CLIPS – START OF TOUR
–
Want to see more? Check out these example photo sets.